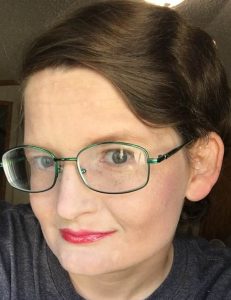 Meaghan Good was born on October 5, 1985, in a tiny Ohio town eleven miles from the nearest traffic light. She has no personal experience with having a missing loved one, but became interested in missing people in 1998 or thereabouts through a chain of events she cannot quite remember now. Her interest led to her friendship with Jennifer Marra, the founder of the Missing Persons Cold Case Network (MPCCN), the Charley Project's predecessor. That story can be seen here. Meaghan founded the Charley Project on October 12, 2004, a week after her nineteenth birthday.
One of seven children in her family, the daughter of two academics, Meaghan had a somewhat unorthodox education. She dropped out of her local public excuse for a middle school at thirteen and began taking courses at Ohio State University just before turning fifteen. After obtaining a high school diploma (without having taken a single high school class — it's a long story), she traveled south and enrolled in a small liberal arts college in Arkansas, majoring in history.
At the age of 23, Meaghan was diagnosed as being on the autism spectrum; she believes she would not have been able to maintain the Charley Project database for as long as she has without the intense focus that comes with having autism. Besides the Charley Project, which she considers to be her vocation, her interests include her cats, her sock collection (50+ pairs), writing, storytelling, and reading, particularly history, the Holocaust, true crime, science and medicine, memoirs, and young adult fiction. Since 2010, Meaghan has written guest posts for the blog Executed Today. You can view her LibraryThing account here.